Discover outside of Tiveden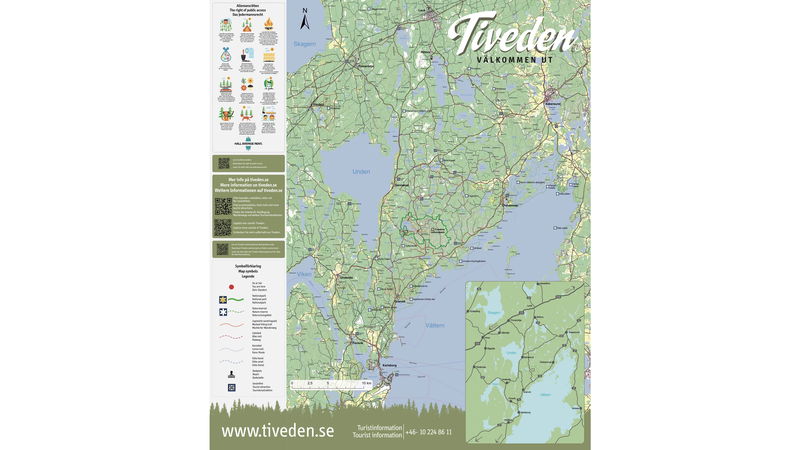 Follow the links to discover more things to do outside of Tiveden
Welcome to Askersund
The experience of Askersund will fill your day with wonderful moments. Experience the small wooden town with the narrow alleys and historical quarters as well as the archipelago, the forests and the events, art & food experiences. It's effortless to be here. Welcome!
Discover Gullspång, Hova and its surroundings
Here you will find a culturally rich countryside close to water and the magnificent nature. Let yourself be inspired and experience what our beautiful area offers - from a quiet moment by a rippling watercourse to more fast-paced activities.
Welcome to the golden place of Karlsborg
The city that acted as Sweden's reserve capital and where Sweden's gold reserve has been preserved for several years - hence the name "THE GOLDEN PLACE KARLSBORG!
Welcome to Laxå
Welcome to Tivedens Ecotourism area and the municipality Laxå. We are Sweden's first and as far only ecotourism municipality. The most visited destination in Laxå is the National Park of Tiveden. But we have so much more to offer - Vargavidderna is magical during the grouse games in the spring so is Skagerhultsmossen during a few colourful autumn weeks when thousands of cranes land at sunset or the fantastic sandy beaches during the summer.
Töreboda by the Göta Canal
Töreboda is beautifully located by the Göta Canal - between the lakes Vänern and Vättern. There are good communications to and from Töreboda, where the western main rail line crosses the Canal. Göta Canal is 190 km long and winds its way through the bountiful landscape. Igelbäcken's blast furnace is one of the county's few preserved furnaces. It was built in 1826 to replace an older furnace and was in operation until 1923. Mining has characterized Örebro County's development from the 12th century until the 1970s. Since the Middle Ages, there have been about 300 furnaces in the county. Today, only a few facilities are preserved.